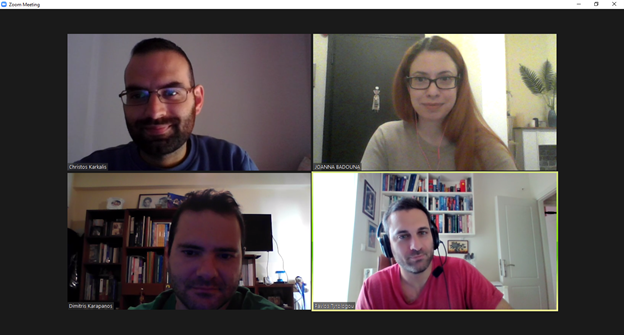 Partner 1: GŁÓWNY INSTYTUT GÓRNICTWA (GIG)

The Central Mining Institute of Katowice (GIG), was created in 1945 as a scientific and development organisation, subordinated to the Ministry of Economy, working for the benefit of the coal mining industry and also for enterprises representing different branches.

Its activities comprise: mining and geoengineering, geology and hydrogeology, geophysical engineering, industrial safety, environmental engineering, surface and structures protection in mining areas, minerals, sustainable energy technologies, social and economic issues, etc. GIG has extensive experience of acting as partner and coordinator of the European projects (FP, RFCS, ECSC, Central Europe and others).

Partner 2: VGB POWERTECH e.V. (VGB)

VGB is the technical association of energy plant operators. It is located in Essen, Germany. It has around 436 members from 34 countries, being companies that operate worldwide facilities for the generation of power, heat and cooling as well as for energy storage and sector coupling. The members represent an electricity generation capacity of 303,000 MW.

VGB combines expertise and services in the fields of technology, operation, environmental protection, and climate protection as well as operation and maintenance management for all types of power generation. As an international association, VGB works, on European level, in close co-operation with EURELECTRIC (the association of the European electricity industry). Furthermore, VGB also cooperates with a wide international network including EURACOAL (European Association for Coal and Lignite), IEA (International Energy Association) and WEC (World Energy Council).

Partner 3: UNIVERSIDAD DE OVIEDO (UNIOVI)

The School of Mining, Energy and Materials Engineering from Universidad de Oviedo (UNIOVI) serves as a centre of excellence for mineral resources and environmental research. Its research includes geology, prospecting, mining, treatment plants, materials, energy, environment, valuation of environmental assets and investments, risk assessment, etc. In 2018 it was nominated by the Shanghai rating as the best Mining School in Spain.

Partner 4: CENTRE FOR RESEARCH AND TECHNOLOGY - HELLAS (CERTH)

The Centre for Research and Technology – Hellas, is the largest research centre in Northern Greece and was founded in March 2000. CERTH is a non-profit organization that directly reports to the General Secretariat for Research and Technology of the Greek Ministry of Development. CERTH is a self-supported Research Centre with more than 600 people working with the majority being scientists.

The mission of CERTH is to carry out fundamental and applied research with emphasis on development of novel products and services of industrial, economic and social importance in the fields of Chemical and Biochemical Processes and Advanced Functional Material, Environmental Friendly Technologies for Solid Fuels and Alternative Energy Sources. CERTH has participated in relevant RFCS projects as well as in other EU funded projects.

Partner 5: HULLERAS DEL NORTE, S.A. (HUNOSA)

Hulleras del Norte S.A. (HUNOSA) is a Spanish State-owned coal mining company based in Asturias, owning one underground coal mine in operation nowadays, San Nicolás, as well as tens of closed underground coal mines, and with 700 employees.

HUNOSA has been involved since the 80´s in policies to regenerate the industrial framework of mining districts. HUNOSA is undergoing the closure of its underground coal mines as well as re-purposing the only coal-fired power plant that it has: La Pereda.

Partner 6: TECHNISCHE HOCHSCHULE GEORG AGRICOLA UNIVERSITY (THGA)

The Technische Hochschule Georg Agricola University was founded in 1816 as a School of Mining. Since then it focuses on the education and training of mine workers and mine managers. With the decision of the German government in 2007 to phase out the coal mining activities in Germany, the university decided to focus on mine closure and post-mining. In 2015 the Research Institute of Post-Mining was established.

Research projects are focused on mine water rebound processes, satellite, and remote monitoring of abandoned mine sites, on the re-activation and re-utilisation of former mine sites as well as on the energy generation from low methane.